Robot Wars
As soon as I have time, I plan to scan some photos of our robot into this area. Our team 'lets make things flatter' fielded the 80kg robot 'tender caress' to Merton Televisions competition event on London.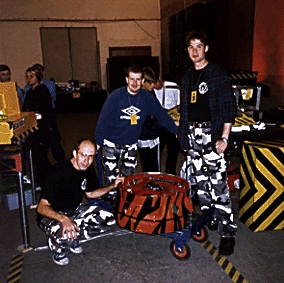 The first of the photos! From left to right, Rik Allen, Phil Thomas and myself just about to take the bestie into the competition arena ...
Also there is a website with more details about the robot and team here or at my local mirror here.

---
Duncan last updated this page on 24th of November 1998
For more information contact dfmcp@hotmail.com